(This rabbit hole sprouted a few tunnels and wound up as a multi-part series! I hope this topic interests you as much as it did me.) We'll start with Floris first, before we explore everything else.
If you don't already know, Floris was the premiere London supplier for perfumery in the Regency, and it is still operating at 89 Jermyn Street in its original elegant St. James location, still family owned and heading into the 9th generation of management! Sadly, I missed a chance for a virtual tour via Instagram just over two weeks ago led by the current family "nose." How far we have come from Regency times!
The shop was founded in 1730 by an enterprising immigrant barber from the Spanish-owned island of Minorca, Juan Famenias Floris. Originally employed in a London hotel, he soon seized the opportunity to open his own barber shop in the midst of the men's clubs district where business was sure to thrive.
He met Elizabeth Hodgkiss in London and after they married they lived above the shop, soon expanding the business to sell perfume and hair combs imported from Minorca, as well as shaving brushes, hatpins, toothbrushes, fine-tooth combs and razor straps all made on the premises, plus scented mouthwashes, hair products and shaving products. Floris recreated scents from his homeland for clients using a refreshing alcohol base, offering among others jasmine, orange blossom, and 'Lavender', the one that made him most famous (still available today).
He and Elizabeth had seven children. When the sons were old enough, they studied the perfumery arts in France. Son Robert traveled through France, Spain and Italy to source and send back exotic ingredients the perfumes required. The firm's website shows one of Robert Floris's "crossed" letters (written in two directions to save paper) from this pre-Regency era.
Combs, a simple item we take for granted today, were difficult to make in pre-industrial times, hand crafted from ivory or tortoiseshell. (for a look at some Regency combs, see this 2018 post of mine) The fine quality of combs provided by Floris actually earned them their first Royal Warrant (of 17) in 1820 as 'Smooth Pointed Comb-makers' to George IV, not long after his ascension to the throne. The much-photographed shop front on the ground floor dates from that time, proudly exhibiting the original coat of arms that came with that first warrant.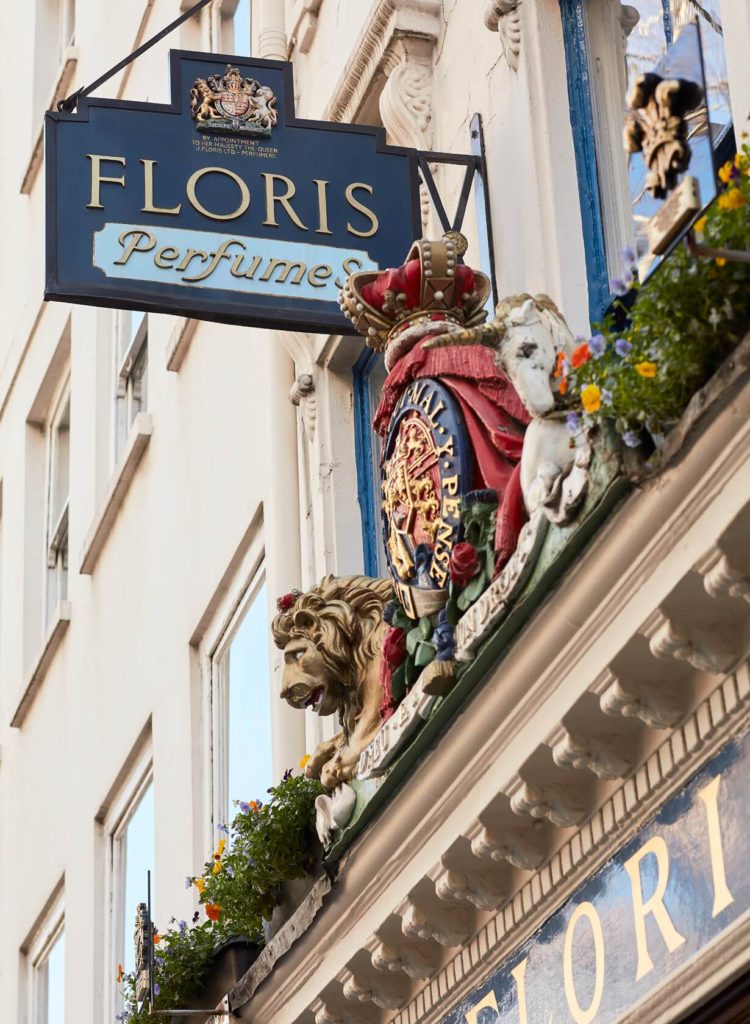 Although the beautiful Spanish mahogany cabinets inside the shop are Victorian (purchased from the Great Exhibition in 1851), the flavor of what the shop must have been like earlier is still preserved, down to the iron boot-scraper outside the door. (There is also now a small museum room at the back.) Many famous (and infamous) personalities from British history have been connected with the shop. According to Floris, Admiral Lord Nelson kept a room on the third floor for Lady Emma Hamilton and would write orders to be placed for her while he was oversees. As you might imagine, Beau Brummell would discuss his current fragrances at length with Mr Floris. Wikipedia says "Mary Shelley, whilst abroad, sent friends instructions to purchase her favourite combs and toothbrushes from Floris."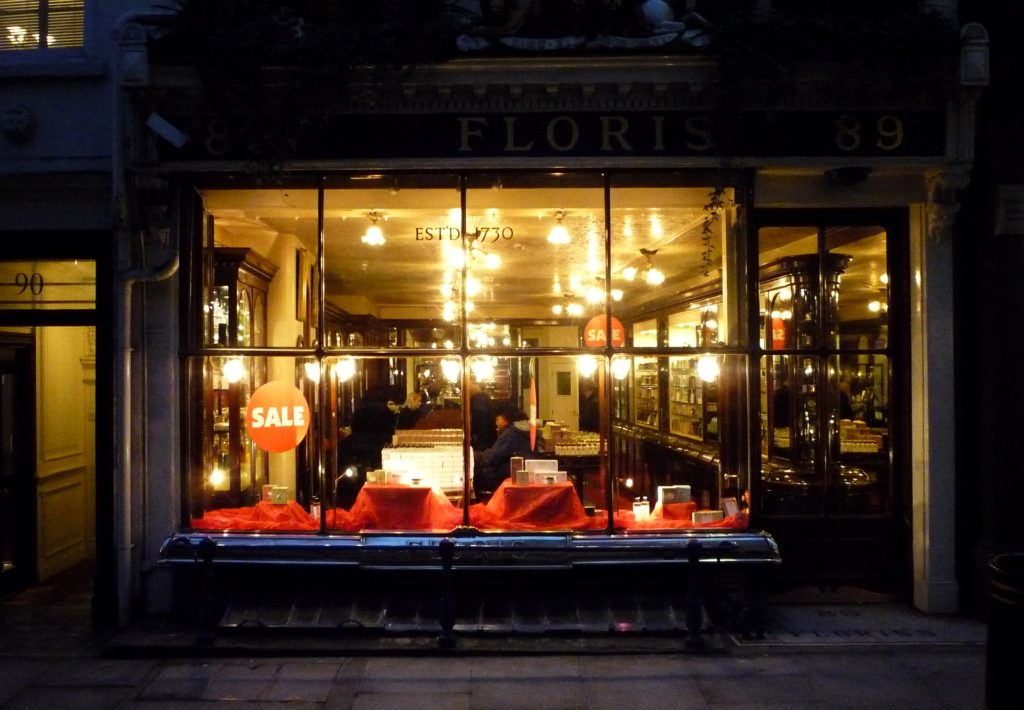 Perfumes from Floris were a luxury item for the wealthy or for very special gifts. The well-heeled patrons could purchase perfume by bringing their own bottles to be filled with their fragrance of choice. (We'll take a look at those bottles in a later installment.) A wealthy aristocrat in Regency London could commission the parfumers at Floris to create a custom scent especially for them. How decadent do you want to get? Naturally, having something that no one else had or could have was an essential mark of status. The formulas were recorded in the company's special ledgers and archived so they could continue to be made on demand for each customer.
Interestingly, Floris in recent years has revived this "bespoke" service from their past. London Perfect has a 2017 interview with Edward Bodenham, the latest descendant to be put in charge of perfumery at Floris, where he talks about the process. The company has also revisited its extensive formula archives to issue its recent "Ledger Series" of eight scents, which includes two available in the Regency era, Stephanotis (1786), and Red Rose (1807). Some of the products still on sale date back to the mid 18th century, such as White Rose, Limes, Lilly of the Valley and No. 89.
But having a unique scent was not an exclusive luxury reserved for only the wealthiest in society. Many a young Regency miss (or her brother) from a reasonably prosperous family might have worn a scent of her own, or at least of her family's, devising, created in the still-room at home. We'll take a look at this aspect of the topic in part 2 of this series in two weeks.
Meanwhile, do you ever use perfume? Have a favorite scent? Have you ever had a chance to visit Floris in London? Please let me know in the comments! Oh, and P.S.! My last post (March 5) was only "out front" for two days because of a scheduling mix-up, but it included the reveal that I'm offering a free Regency short story now to anyone who signs up for my newsletter. Here's the link for that if you're interested: Gail's newsletter